Affordable Preventative Maintenance
Serving Midland, Odessa, & Big Spring, TX
In order to keep your system performing at peak levels, you need to have regular maintenance done on your air conditioners and heating units. Did you know that your air conditioner is responsible for up to 65% of your electric bill? If your system is not working at its peak, the percentage is even higher. Here at ONEWAY, we recommend an annual maintenance on your A/C system before summer arrives, and an annual maintenance on your furnace or electric heater before you start to use it heavily in fall or winter. Call today to learn more about preventative maintenance.
Preventative maintenance also helps you avoid the need for costly and inconvenient AC repairs. The same is true for heating services. Even though by living in the Big Spring, Midland, or Odessa, TX area you may not run your furnace much, you do not want to find it broken down and malfunctioning on a chilly night when you could really use it. The trick with HVAC issues is to act sooner rather than later. An ounce of prevention is worth a pound of cure, and both your wallet and your comfortable family will appreciate your foresight when it comes to keeping your systems up and running smoothly. Make our local crew your first choice for any and all heating and cooling maintenance needs!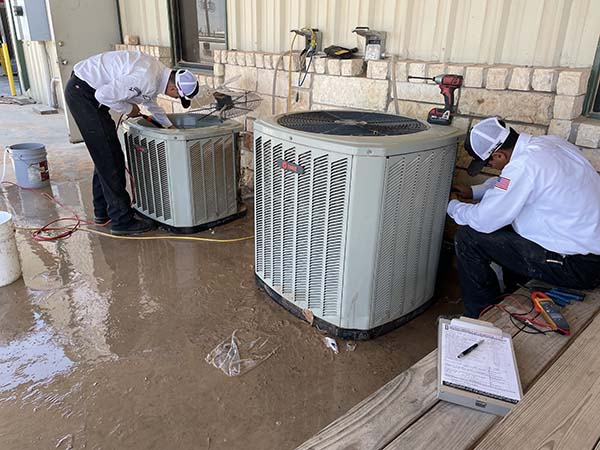 Heating Maintenance Checklist
Benefits of Preventative Maintenance for Your HVAC System
Run More Efficiently: The main advantage of having annual preventative maintenance on your HVAC system is that it will run more efficiently. Over time your unit can begin to deteriorate and parts may become faulty. With preventative maintenance, our team will check all working parts and ensure they are operating at the optimal level.
Save Money on Utilities: Once your HVAC unit is running efficiently, you will save money on utility bills. If not maintained properly, the unit may require extra energy to operate correctly. Regular maintenance can help reduce electricity, oil or natural gas bills.
Peace of Mind: If you continue to have regular maintenance on your HVAC unit, you can have the peace of mind that it will start up whenever needed. When those hot summer days hit here in the Midland and Odessa, TX area, you will need your unit to kick on at a moments notice, and preventative maintenance will ensure that happens.
Your heating and AC systems are two of the most complex systems in your Andrews or Big Spring home. When problems arise, they may be beyond the scope of what a typical homeowner can able to handle on their own. If your HVAC system needs repairs, a certified technician can figure out the cause of the problem and repair the unit. Our technicians can repair units from all of the top manufacturers in the industry. When you choose ONEWAY Heating and Air Conditioning, you can be confident that each AC repair is performed correctly.