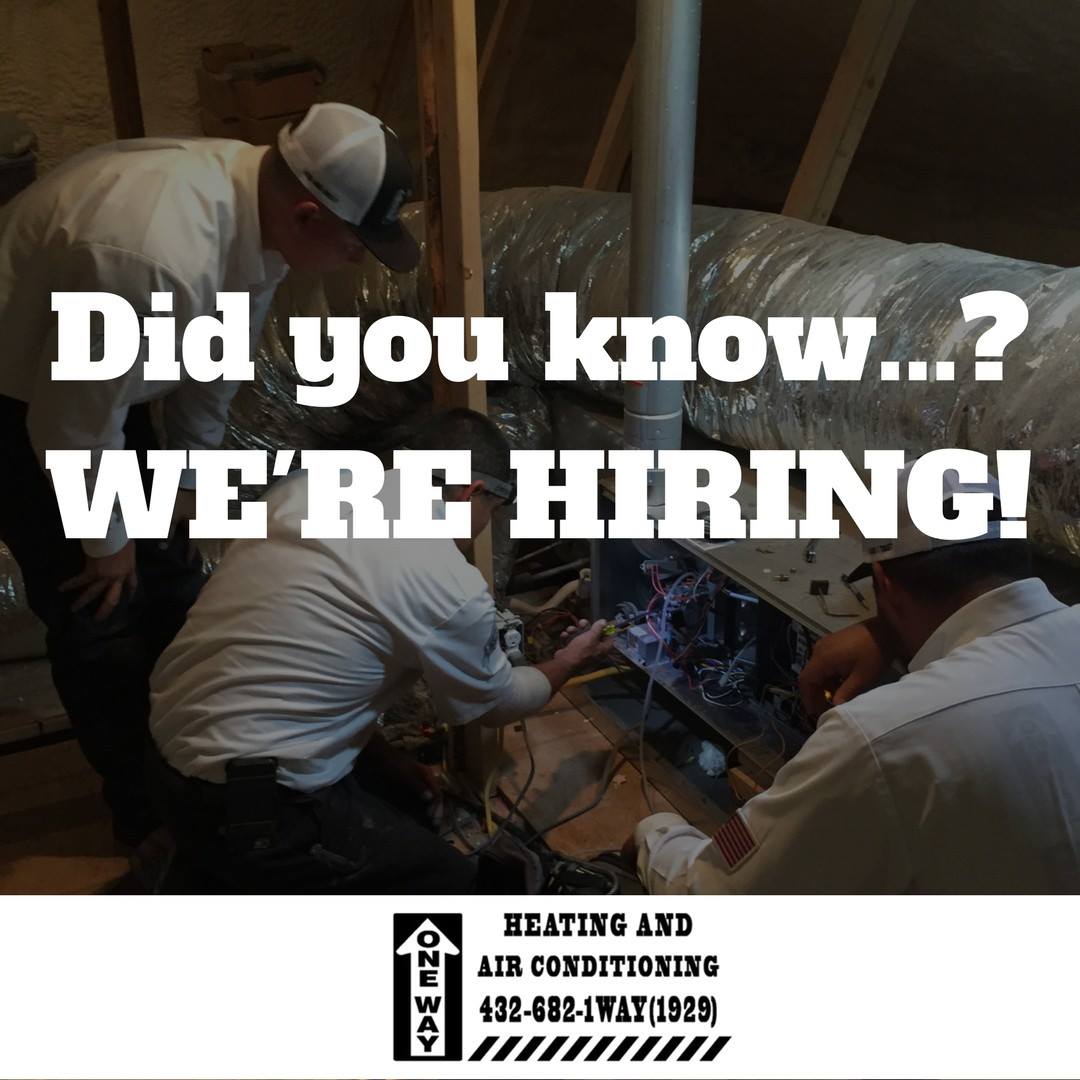 Now Hiring!
At One Way Heating & Air Conditioning positive service stems from a positive workplace. We are proud to offer both to our employees.
We welcome ambitious and skilled pros to join our team. If you are looking for a rewarding career in the HVAC service industry, fill out the contact form and upload your resume or give us a call at (432) 701-0614
If we feel that you are a good candidate, one of our managers will reach out to schedule an interview!
Open Positions
We are currently hiring for the following:
HVAC Apprentice
Overview:
Looking to TRADE up from a job to a career? Oneway is looking for an HVAC Apprentice!
This position pay is based on previous work experience and is paid out bi-weekly!
Who YOU Are:
Hard-working, willing to learn
Enjoy working with your hands
Interested in becoming an HVAC Technician
Good communicator with a strong customer service focus
Driven by rewards based on work effort and outcomes
Mechanically Inclined
Qualifications:
What YOU will do:
Work side-by-side the BEST technicians and installers in the industry!
Receive hands-on-training in residential, light commercial HVAC service, repair, and installation
Assist with parts, tools, delivery, installation at job site
Operate a variety of hand and power tools, requiring dexterity and the ability to lift 50 lbs.
Ensure HVAC systems are compliant with industry standards and regulations
The above is not an exhaustive list of responsibilities and learning outcomes
HVAC Installer
Under direct supervision of Lead Installer, installer will assist in the installation of heating, ventilation, and air conditioning systems in multi and single-family new construction or commercial renovation or new construction. Installations will be up to code and company quality standards. Reports to job on time and ready to work. Always maintain professional appearance and attitude.
Required Qualifications:
Valid driver's license and clean MVR.
Must be able to pass a background check.
Must be drug-free and able to pass new hire and random drug screenings.
Demonstrate willingness to invest in tools used in the installation of HVAC equipment
Demonstrate willingness to invest time training to advance position.
Demonstrate commitment to developing customer service and communication skills
Ability to follow written and verbal directions as given
Ability to follow Safety Guidelines:
Safely work with heights and in tight working conditions from extension and step ladders and lifts.
Ability to operate power and hand tools safely.
Ability to use safe lifting procedures
Ability to use full range of body motion: climbing, balancing, stooping, kneeling, reaching, lifting, bending and twisting.
HVAC Service Technician
We are looking for an experience HVAC Technician to be a part of our team here at ONEWAY!
Job Description
Diagnoses problems and/or failures in heating/air conditioning for the purpose of identifying equipment repair and replacement needs.
Install heating/air conditioning equipment and systems.
Inspects systems and their components (e.g., air conditioning, heating units, building exhaust fans, ventilation units, etc.) for the purpose of ensuring safety and identifying necessary repairs and providing an ongoing program of preventive maintenance.
Skills, Knowledge, and Abilities
At least five years technical service experience on field.
TDLR A/C Technician (Registered or Certified) License required
Valid driver's license, and good driving record.
Good people skills with a commitment to customer satisfaction.
EPA Type II required. (EPA 608 Universal will be accepted)
Ability to perform basic math, including calculations using fractions, percent's, and/or ratios.
Ability to read technical information, compose a variety of documents, and/or facilitate group discussions.
Lead Installer
We're looking for an energetic, outgoing, friendly, clean-cut, and ready to work professional HVAC Lead installers who have a positive attitude and take pride in doing it right the first time! Quality work is required- no short cuts.
Need to be great with people-can communicate as well as deliver great service.
Drug free & Smoke free work environment- WE TEST and Background check
Good driving record & current valid license
EPA certified a must.
Must be able to install to code and company requirements.
HVAC Installation: 2 years
Primary Job Function:
To install heating and air conditioning systems (including duct work) to company standards providing the customer with a high quality experience. Supervise the work of other installers maintaining high quality and timely job performance
Proficient in installing Gas Pipe & Refrigeration Pipe
Proficient in all HVAC functional design and installation of duct systems
Proficient understanding of refrigerant, gas and electric furnaces, heat pumps, troubleshooting and installation of all residential systems including mini splits and light commercial systems.
Able to train and supervise others
Exceptional Safety knowledge of tools, testing devices and surroundings.
General knowledge in all HVAC low voltage systems
Ability to test and balance systems
Must have own tool
Reliable and Honest
Service Dispatcher
A highly motivated individual to help maintain a high level of customer service satisfaction. This individual will provide support to our external customers to determine service needs. Schedule and notify field service technicians, installers, etc of assignments and enter necessary data into the computer database.
Job Duties:-
Provide friendly, high quality customer service to internal and external customers.
Communicates with customers to determine their needs.
Schedules and notifies service technicians of workorder assignments using GPS tracking and dispatching software.
Receives check-in call from the service technicians and informs workers of the next job to respond to
Supports service technicians & installers.
Maintains customer repair records using the computer database to give detailed history of the work performed at their sites.
Maintains dispatching board to ensure maximum efficient capacity of technicians.
Manage on-call schedule and notify technicians of their assigned weeks.
Know and understand service work order module and service contract.
Active in all facets of dispatch.
Various reporting responsibilities as needed.
Multi-task between high volume of live phone calls and electronic communication
Answer up to 75 or more calls per day -Communicate effectively between customers, dispatchers, and field technicians -Assist customers with placing orders and with status inquiries.
Requirements:
Requires a high school diploma...additional education a plus.
Previous dispatching/customer service experience
Experience and utilizing judgment to plan and accomplish goals.
Follow up and follow through with technicians and customers to help maintain good customer relationships.
Ideal candidates will have the following customer service-related skills:
A professional and courteous telephone manner.
Ability to handle a multiple-lined phone system...GPS system and dispatch to multiple field technicians.
Patience and endurance to sit/stand behind a desk all day.
Able to identify and handle the urgency of each task, and work in a high-stress position.
Is detail-oriented with the ability to multi-task.
Basic computer skills to include the following:
Proficient w/Microsoft outlook, excel and word.
Strong interpersonal skills such as, communication, problem solving, and organizational.
Perform a variety of tasks; works under general supervision of the service manager.
General office duties may include filing, sorting, answering phones in a CSR role, greeting customers, etc. Additional skills that will be considered:
Apply Now
"*" indicates required fields